Phineas & Ferb Across The 2nd Dimension (Move Comp
PS3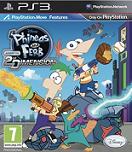 *** PlayStation Move Compatible ***
Phineas & Ferb: Across The 2nd Dimension gives fans the chance to play as their favourite characters including Phineas, Ferb and Agent P as they journey through all new dimensions filled with action-packed fun, in a quest to battle the evil Dr. Doofenshmirtz.

The PlayStation 3 version of Phineas & Ferb: Across The 2nd Dimension will allow fans to play as up to 10 characters. Players will have the option to work together in two-player cooperative mode while navigating through an old time 1928 style cartoon world, a lawn gnome land and a gelatine world.

In a mission to save the world, players will journey through 25 exciting levels while overcoming obstacles and upgrading cool new gadgets including the Carbonator, that fires carbonated orange soda that can melt enemies and ninja gloves, which allows players to stick to walls. Along the way, fans will collect cool items and unlock additional playable characters, including a new OWSA special agent created specifically for the video game. The PlayStation 3 system version will also be the first time a Phineas & Ferb video game features PlayStation Move motion controller compatible gameplay.

In addition to lending their voices to the Disney Channel Original Movie, several of the actors from the popular TV series will be voicing the PlayStation 3 version of the game including Vincent Martella as Phineas, Thomas Sangster as Ferb, Alyson Stoner as Isabella and show creators/executive producers Dan Povenmire as Dr. Doofenshmirtz and Jeff "Swampy" Marsh as Major Francis Monogram.
Buy Phineas & Ferb Across The 2nd Dimension (Move Comp on PS3