Saints Row The Third
XBOX360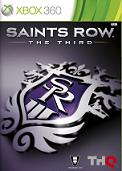 Years after taking Stilwater for their own, the Third Street Saints have evolved from street gang to household brand name, with Saints sneakers, Saints energy drinks and Johnny Gat bobblehead dolls all available at a store near you. The Saints are kings of Stilwater, but their celebrity status has not gone unnoticed. The Syndicate, a legendary criminal fraternity with pawns in play all over the globe, has turned its eye on the Saints and demands tribute.

Refusing to kneel to the Syndicate, you take the fight to Steelport, a once-proud metropolis reduced to a struggling city of sin under Syndicate control. Take a tank skydiving, call in a satellite-targeted airstrike on a Mexican wrestling gang, and defend yourself against a highly-trained military force using only a sex toy in the most outlandish gameplay scenarios ever seen, igniting a city-wide war that will set Steelport on fire.

Saints Row: The Third gives you control of the Saints at the height of their power, and you live the life to show for it. Now Steelport is ripe for the taking, and it's up to you to make the city your own. Mold the skyline based on your choices, outfit your crew in classy gangster gear or furry costumes, and make life-or-death decisions that will change Steelport, and the Saints, forever. This is now your city. These are now your rules. Strap it on
Buy Saints Row The Third on XBOX360
Reviews





Such a fun off the wall game, if you like silly storylines and over the top action this is the game for you. forget GTA this is where its at!





Great game! Very funny!! Love customization option... Graphics is not that good but fun gameplay with the coop...





loads of fun.





Set three years after the previous game, Saints Row 3 sees you taking on the role of gangleader of the Third Street Saints again. Three years is a long time in the gangster world as the Saints are no longer just a brutal and effective criminal operation but now a fully-fledged media empire with their time split equally between doing dirt (I'm getting my terminology from the Wu Tang Clan here) and setting up legitimate businesses and a popular line of merchandising. Starting out with a bank heist, it looks like the Saints are in familiar territory from the off. Things soon take a change for the unusual when it is revealed that they have an actor in tow researching them for a role and the gang are wearing characature masks of themselves. The heist goes wrong and soon turns into an all-too-real bloodbath. This opening sequence is breathtaking as far as cold openings go and the action soon ramps up to sublime levels. At this point, if you've got any sense of fun in you, you should be well-hooked and expecting things to settle down a little. The game follows up with a second, unbelievable playable setpiece which sends a strong message. This game is going to be more ridiculous, hilarious and dynamic than anything you've played before. Mission after mission of amazing set pieces and full-on laugh-out-loud humour will reward you for your purchase. You're just along for the ride. Inbetween missions, the Saints concentrate on building a new empire in the fictional city of Steelport - a typical mix of business, industrial and residential areas. It it a city full of shops to visit and take over, side-missions to conquer and all the vehicle and weapons you can eat. The opportunities for chaos are everywhere and the game's strong but exaggerated engine just enhances everything. Many of the side-missions will be familiar to veterans of the series but newcomers such as Dr Genki's and an odd twist on the taxi driving missions (a very odd twist!) up the ante suitably well. Of course these endeavours, and the main missions, can all be performed in co-op although it's still just a two-player affair. Graphically everything is what you'd describe as pretty but functional. Steelport is a big place to play in (not so big that it's a chore to navigate though) and so the level of action catered for does mean the graphics aren't going to be up there with the likes of Skyrim or anything. It looks good though. Where the presentation really excels is in the sound. Everything sounds great from the gun battles to the snippets of incidental speech that you get when wandering around. The voice acting takes it up a notch though with some truly memorable performances that I won't spoil for you. The best thing is the music selection though. A great selection of dance, hip hop, indie and metal are on offer from the in-game radio stations, the best of which is The Mix which plays everything from Adam Ant to the theme from the Karate Kid! Oh and Return of the Mac! Just as Skyrim simplified and polished the gameplay set down by Oblivion so does Saints Row 3 when compared to the original. Levelling up, collecting money and organising your weaponary, missions and contacts list are all a lot easier now with most options all being accessed through your phone. They've taken out a lot of the collectables too so it's all just a lot more immediate than Saints Row 2 was. When it comes down to it though, Saints Row 3 is all about impact. It starts at 100mph with big set-pieces and funny cutscenes and even when it settles down to street-level, there is always a great story mission, a new weapon or a great character around the corner keeeping the momentum up. The game concentrates on fun. Distilled, bottled, swigged and vomited all over you. Instead of being mired in a concrete world of realism, Saints Row 3 is set in a sugar-frenzied world of imagination and possibility, knowingly ridiculous and proud of it. You can look at minor niggles in the game, some of which are design choices, others that will no doubt be patched out and consider whether or not points should be dropped from the score but if you're going to drop a couple of points, you'd better start from twelve because no other game strives to give you this much to do and this much fun doing it.