The Saboteur
PS3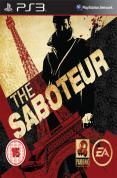 Pandemic Studios invites you to experience the ultimate open-world action/adventure as The Saboteur. Fight, climb, and race your way through a uniquely stylised version of Nazi-occupied France, and hunt down your sworn enemies who have taken everything from you. Enter the seedy underground world of a saboteur living in 1940s Paris, where the women are sexy, the missions are epic, and the revenge is satisfying.

Play as Sean Devlin, a street-tough Irish racing mechanic seeking personal redemption in the first open-world action game set in Nazi-occupied Europe. Now, it's time for payback - with the help of the French Resistance, British intelligence, an arsenal of weaponry, and your own street smarts and brawn, you must exact revenge on those who aimed to destroy your life. Motivated by retribution and armed with tactics of sabotage, blow up zeppelins, derail trains, implode bridges, destroy armoured tanks, and level enemy facilities in the name of vengeance.
Buy The Saboteur on PS3
Reviews





A top game and a lot of fun! Imagine assasins creed mixed with GTA in 1940s paris and you've got a WINNER!!!





Excellent story-line.





A good action adventure game. It had good storyline to keep your hooked on. Gameplay had the same feel as GTA( openworld)