The Testament Of Sherlock Holmes
XBOX360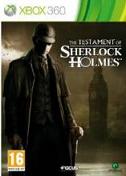 The New Adventures of Sherlock Holmes: The Testament of Sherlock Holmes
Sherlock Holmes causes a stir! For over ten years, millions of players have donned the hat and magnifying glass of the world's greatest detectives, in a dozen games for PC and handheld systems. This year, Sherlock Holmes makes a triumphant return.
1898, London. All the evidence of police investigation points at Sherlock Holmes as the main suspect in a case involving theft, fraud and double-crossings. Unable to prove his own innocence, Holmes is rapidly losing London's trust as doubt spreads through the city like wildfire. Even Doctor Watson's faith in his friend begins to waver, as the famous detective flees Scotland Yard and raises further suspicion; prowling around at night, destruction of evidence... would Holmes go so far as to commit murder?
A mainstay genre of console games, The New Adventures of Sherlock Holmes was specially built to display complex scenes and high-resolution textures. The game features lush, captivating environments and truly raises the bar for adventure games.
The complex and decidedly-mature storyline surrounds a particularly tricky investigation, in which each and every puzzle will challenge both insight and wits! As Sherlock Holmes, you will use the detective's full repertoire: handle and inspect clues, reenact crimes and use the game's new deduction system to draw your own conclusions. Choose your questioning approach to catch characters off-guard and gather valuable information. Players are facing an open investigation, and must decide which leads to follow and which to ignore.
You are Sherlock Holmes, and this is your investigation. Live a thrilling adventure and foil an incredible conspiracy!
The Testament of Sherlock Holmes Features:
-One of the biggest licenses in adventure gaming.
-Confront Sherlock's most dangerous opponent: Moriarty!
-Dozens of exciting mysteries and puzzles to solve.
-Interact with dozens of characters, gather clues and use special tools to solve an incredible case!
Buy The Testament Of Sherlock Holmes on XBOX360
Reviews





Great story that suffers with control issues from time to time. An easy game but some of the puzzles are a bit tricky. Caution if you SKIP a puzzle this will void a trophy/achievement. Well worth a rent.





It was a intriguing game with a lot of mind boggling puzzles and an interesting story but it is a game you only play once as you know how it unfolds at the end.





Good game. A nice change of pace from shooting wave after wave of bad guy. Great plot with a few twists and turns. Puzzles are quite varied with some really taxing the brain but nothing too hard as to be unsolvable. Only criticism is that opening doors can be a bit glitchy with the character you are controlling doing the running man until you back away and try again. But this doesnt detract from the experience to much.





I loved this game from start to finish I give it 10/10





Nice little mystery game. Makes a nice relaxing change. Its point and click and make sure to switch to 1st person mode otherwise camera sucks real bad. Guides are available if u get stuck





I enjoyed the game but found it frustrating as it was hard to work out the clues but a good game and worth renting thank you





To glitchy to be fun. It was a frustrating game and ideally needed a few more months in development to iron out the creases!





Enjoyable rental