Assassins Creed Origins
XBOXONE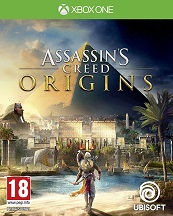 Amongst the Great Pyramids, the last pharaohs, and myths of Ancient Egypt, the Assassin's Brotherhood was born. Follow Bayek, a protector of Egypt, as the origin story of the Brotherhood unfolds against the backdrop of one of history's greatest empires, plunging players into a living world where epic battles will be fought and ancient secrets discovered.
Experience Assassin's Creed Origins' new action-RPG elements that allow players to level and customize their own version of Bayek with unique gear and powerful weapons before taking on foes in a new combat system designed to offer more tactical freedom than ever before in the franchise. Likewise, a new quest experience gives players the opportunity to explore and uncover the mysteries of Ancient Egypt at their own pace.
Buy Assassins Creed Origins on XBOXONE
Reviews





Amazing experience





Different from all previous assassins creed games but enjoyable and immersive. Massive gaming area which does remind me a little of the very first game. Enjoying it so much i have now purchased it for a bargain price. Highly recommended





Fantastic open world, beautiful and detailed. Good charcter and interesting enemies. Combat is really good, smooth and balanced. One of the best games ive played.





This game was amazing so different from the previous assassins creed i have played it has so many quests and sides quests to do that you kept busy and the storyline is beautifully tragic would definitely recommend





addictive, so much left still to do when I returned it, but have to give others a chance lol highly recommend it





Best game in the series so far. Happy they took an extra year out to improve the mechanics and add in some extra depth to the game as it was because a bit dry, although I have enjoyed the series as a whole (except Unity)





Superb gfx massive world





epic game





Good