PS3 Games Online From Boomerang Rentals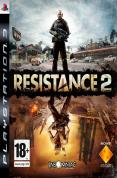 Looking to rent PS3 games online? Boomerang Rentals are one of the leading UK suppliers in the video game rental market. The playstation 3 console is probably the most popular amongst the kids today. Boomerang realise that demand for PS3 games is high and that's why they keep a massive stock of playstation 3 games ready for dispatch to you within 48 hours + take advantage of our 21 days free trial with no obligation and of course our low rental prices from just £7.99 per month!
Click here for your Free 21 Days Trial and discover the Boomerang experience for yourself!
PS3 Games Categories
We have whole host of different PS3 games categories with everthing to suit the die-hard gamer to the casual games player at the weekend. These range from action and adventure games, arcade style games, puzzle games, fighting games, racing games, shooting games, sports and lots more including music and junior PS3 games just for the kiddies.
PS4
In November 2013, Sony will be releasing the newest addition to its range of Playstation consoles, the PS4. Keep your eyes peeled on Boomerang for the lastest releases on this fabulous new console.
Please visit our website to see our superb range of PS3 Games and rent the game you want now.