Far Cry 5
PS4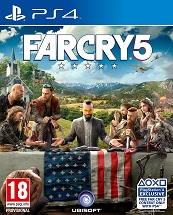 Welcome to Hope County, Montana, land of the free and the brave but also home to a fanatical doomsday cult known as Eden's Gate. Stand up to cult leader Joseph Seed, and his siblings, the Heralds, to spark the fires of resistance and liberate the besieged community.
Fight against a deadly cult:Free Hope County in solo or two-player co-op. Recruit Guns and Fangs for hire to help defeat the cult.
A world that hits back:Wreak havoc on the cult and its members but beware of the wrath of Joseph Seed and his followers.
Carve your own path:Build your character and choose your adventure in the largest customizable Far Cry game ever!
Dynamic toys:Take control of iconic muscle cars, ATV's, planes and a lot more to engage the cult forces in epic fights.
Home to a fanatical doomsday cult known as The Project at Eden's Gate that is threatening the community's freedom. Stand up to the cult's leader, Joseph Seed and the Heralds, and spark the fires of resistance that will liberate the besieged community.
In this expansive world, your limits and creativity will be tested against the biggest and most ruthless baddest enemy Far Cry has ever seen. It'll be wild and it'll get weird, but as long as you keep your wits about you, the residents of Hope County can rest assured you're their beacon of hope.
Once you fall under Faith's spell, you're a goner. As Joseph's voice, Faith acts as a divine instrument of chaos to keep the congregation in a state of bliss.
John will use intimidation, faith and violence to secure resources vital to the Cult's survival - be it a home or a person.
As the Cult's recruiter and former Army marksman, big brother Seed's main duty is protecting the Project at Eden's Gate.
Buy Far Cry 5 on PS4
Reviews





Best Game Ever 10/10





Great game





Great game, loads to do





Really enjoyed playing this game





Really enjoyed this. Superb





Amazing





A fantastic Story mode! The multiplayer was dreadful however.





Great game although had a few bugs and issues along the way. Overall worth a play.





I really enjoyed this game. Lovely open world. Weapons & vehicles handle well. Great sound & soundtrack. Graphics are really nice. Good voice work. Loads of missions and side quests and the ending was fantastic. Fully recommended.





Masterpeice!