God of War
PS4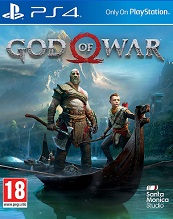 The God of War has changed… and this is not the Kratos you know.
A difficult and unfamiliar road awaits as you explore a stunning retelling of a classic story. Join Kratos as he adventures through a deep and reflective journey of growth, violence and the desire to become a better man for the sake of his son. In a world of monsters, dragons and gods, the weight of responsibility rests heavy on your shoulders – and when your life is filled with blood and chaos, how can you prevent the mistakes of the past in order to protect your future?
Buy God of War on PS4
Reviews





Perfect





One of the best games in 2018.





Fantastic game, enjoyed it throughout





Amazing heaps of side missions , great story sound and graphics if you love single player action games this is fantastic





Incredible





Hands down the best game I have ever played in any computer. The story line just brings you in and in until you feel like you are apart of a movie and you are in it as the characters. I am really looking forward to the next game and picking up where I left off and getting starlight back into the story mode.





Amazing graphics, great story. Just plain Amazing





I loved this game very much. One of the best games of all time. 11/10. Excellent: graphics, gameplay, voice acting, loveable main and supporting characters, brilliant storyline and scenary. You have to play this game, I will definitely rent this again for New Game.





Amazing game. Stunning graphics.





I have played many games over the years, but this genuially is up there for me and potentially the best game I have ever played 10/10