Heatseeker
Nintendo WII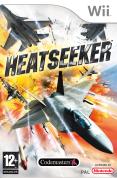 Heatseeker, the most explosive, destructive and exhilarating arcade aerial combat experience ever!

Designed to be an incredible lock-on/shake-off experience, Heatseeker reinvents missile combat to give gamers a massive rush of destruction. Set to feature an incredible collection of current and near-future military fighter jets, Heatseeker's arsenal includes the stealthy F-22 Raptor, the classic F-15 Eagle, the cutting-edge F35 Lightning II and the aerodynamically advanced Russian SU-47 Berkut.

Heatseeker is a joint development project between Codemasters and IR Gurus, the Australian studio behind the acclaimed historic air combat title, Heroes of the Pacific.

Heatseeker will strap you into the pilot's seat and deliver an exhilarating white-knuckle ride that'll have you clutching the joypad as you engage in face-melting 6g turns and fight against a seemingly-impossible amount of airborne enemies.

And when you launch a strike, you'll follow your missiles as they ruthlessly home in on their targets via the Impact Cam. Delivering awesome cinematic 3rd-person camera cutaway scenes, the Impact Cam will reveal the results of your attack in all their devastating glory from all kinds of dynamic angles, complete with jaw-dropping explosions and smoke trails.
Buy Heatseeker on Nintendo WII
Reviews





brill game rent and make your own mind up..... graphics are sh1te but the game itself handles well and i had a really good time playin!! Impact cam rocks!!