Jewel Quest Mysteries 3 The Seventh Gate
Nintendo DS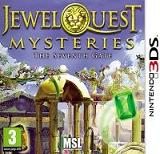 The hit hidden object series is back, and it's better than ever!
Venture through the hidden relics of Greece as you join Emma in search of her husband and daughter, who have fallen victim to a horrible curse as they began their journey to uncover the mysteries of the famed jewel boards of ancient Greece.
Emma must now find her missing family before an impending volcanic eruption that will put all of their lives in peril. Don't miss out on this exciting and dangerous adventure that is unlike any other!
Buy Jewel Quest Mysteries 3 The Seventh Gate on Nintendo DS