Need for Speed Payback
PS4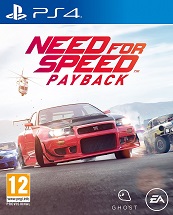 Need for Speed, one of the world's bestselling video game franchises, returns with a vengeance in the new action-driving blockbuster Need for Speed Payback. Set in the underworld of Fortune Valley, you and your crew are reunited by a search for vengeance against The House, a nefarious cartel that rules the city's casinos, criminals, and cops. In this corrupt gambler's paradise, the stakes are high and The House always wins. Play a variety of challenges and events as Tyler, the Racer; Mac, the Showman; and Jess, the Wheelman. Each driver must take on races, missions, and challenges to earn the respect of the Valley's underground and compete in the ultimate race to finally take down The House. Your car is at the centre of everything you do. Craft unique rides with deeper performance and visual customization than ever before. Push them to the limit when you narrowly escape the heat in epic police chases. Go head-to-head with other racers on- or off-road through canyons, deserts, mountains, and the city. Raise the stakes by putting down additional in-game currency on events, challenges and missions to multiply your winnings, or risk losing it all. For ultimate bragging rights, connect via Autolog recommendations and compete with your friends and - for the first time - with potential rivals. Your leaderboard will populate with other players of similar skill level so you can see how you rank around the world. From insane heist missions to devastating car battles to jaw dropping set piece moments, Need for Speed Payback delivers an edge-of-your-seat, action-driving fantasy.
Buy Need for Speed Payback on PS4
Reviews





Good





Very good game





Really good game





Great game





Great game





Although this game is a classic arcade racer, it lacks the little things that made need for speed the franchise it is. There is no free roam cop chases and the game is very linear. Having said that it is still fun, and the level of customisation is incredible. Overall it is a fun game with flaws that most would enjoy





Probably one of the best Need for speed games in a long long time. EA have done a very good job with it. I like the Drifting which is easy & effective, the new Police & story is very good. Brilliant game & highly recommend it.