Ravens Cry
PS4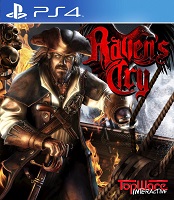 Raven's Cry plunges you into the dark heart of the Caribbean with the thrilling story of Christopher Raven and his quest for revenge against the pirates who slew his family. Reality Pump has delved deep into the violent times of the 18th century, shaking off the family friendly themes and silly pirate films to bring you a bloody pirate adventure like no other.
With his strange and ever present raven circling overhead, Christopher moves like a spectre of death throughout the Caribbean, where the only acceptable outcome is death for either him or his enemies. Christopher has nothing to lose, and will either find his revenge, or die in a river of his enemies' blood.
Raven's Cry is a third person RPG-adventure that combines fast-paced swordplay, thrilling naval battles, and free ranging explorations through undocumented islands and historical towns. A cadre of colourful cutthroats will cross your path on your travels, all with their own motivations and plans, but make sure to choose your crew with care!
The combat system in Raven's Cry is based on the traditional art of fencing, combined with historical firearms, the always messy hook, and good old fashioned street fighting, allowing players to dispatch foes in a variety of grisly ways. Upgrade your abilities and learn new skills that will make your enemies literally tremble in fear. Regardless of whether you play as a badass or just a plain bad guy, Raven's Cry offers multiple ways to gain victory; it's up to you to decide if Christopher reaches his goal with his soul intact.
Much like his fearsome hook, Christopher's raven has become a tool of his revenge, strangely seeming to be linked to Christopher, almost as if it understands his wishes… and desires revenge as well.
Christopher takes control of various ships on his crusade, and few are acquired legally. He can gain a reputation on the high seas just as easily as he can in port, and your actions will influence your enemies. Christopher is not without resources of his own however, as his ships can be upgraded and customized for a price. Christopher can also fly different flags, misleading his enemies and hiding his identity. As captain of the ship, you must maintain complete control of your ship and crew at all times. A crew's morale is the lifeblood of any vessel, and they will complete their ordered tasks as well as you treat them.
Christopher is dedicated to his revenge, but waging a one-man war can be expensive, and Christopher is far from rich. Earning gold is critical in Raven's Cry, and there are a variety of ways to obtain it; from smuggling and trading, to looting and robbing, Christopher must keep his coffers well stocked in order to be prepared for what's to come. Gold and information are the most important currencies in Raven's Cry, and more often than not, the two go hand in hand.
Buy Ravens Cry on PS4