The Sky Crawlers Innocent Aces
Nintendo WII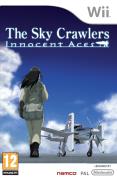 The Sky Crawlers: Innocent Aces pushes the Wii hardware to the extremes of its capabilities, delivering an impressively hi-fidelity rendition of intense arcade-style aerial combat. The Wii Nunchuk is used as a joystick to control the planes in flight, and the high altitude action is supplemented with over 30 minutes of gorgeous anime cinematics. The brand new story has been created by the Project Aces team in close collaboration with the licensor, keeping faithful to the Sky Crawlers universe!

In a world where there is no more war, corporations stage fictional war 'shows' on a massive scale to make people truly feel at peace. In The Sky Crawlers: Innocent Aces, the player takes the role of a top ranked pilot transferred from another base and newly enlisted in the Rostock Corporation, an enterprise of war that has recently welcomed a batch of intriguing new pilots into their ace squadron. Not even the officers at the base are able to hide their confusion at these new recruits who appear to be mere children. One girl, Maumi Orishina, stands out from the rest. In the sky reflected in her eyes, the dogfight begins...
Buy The Sky Crawlers Innocent Aces on Nintendo WII