Assassins Creed Odyssey
PS4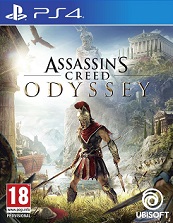 Write your own legendary Odyssey and live epic adventures in a world where every choice matters. Sentenced to death by your family, embark on an epic journey from outcast mercenary to legendary Greek hero, and uncover the truth about your past. Forge your path through a war-torn world shaped by gods and men, where mountains and sea collide. Meet Ancient Greece's famous figures and interact with them during a pivotal point in history that shaped western civilization. Assassin's Creed Odyssey brings player choice to the forefront through innovations never-before-seen in Assassin's Creed as you choose the hero you want to become and change the world around you. Through the relationships you build with colorful characters & the decisions you make along your Odyssey, it is you who is in control of your destiny. Customize your equipment and master new special abilities, tailoring your hero's skillset to your play style. Fight your way across Greece, engaging in visceral battles both on land and at sea, to become a true Hero of legend.
Buy Assassins Creed Odyssey on PS4
Reviews





Great game, over 150 hours playtime. I have to say this is my favourite assassins creed. I will pick this back up when all the dlc is out





I was very impressed with this game, one of the best storylines since the Desmond Miles era. 5/5





Amazing!





Really brilliant game. Could not put it down once started playing.





Really enjoyable





Best AC game in a very long time! Visually stunning and a great story.





Great return to form. Bit of a loose ending and a heavy grind to get there on all fronts, but overall great





Epic game, worth the buy as long game 👍🏼👍🏼





It really is a top game, and will have you playing for days on end. Before you know it you have to get some sleep. Much better story line than origins in my opinion. And killing the elites and the fact that you get to pick different out comes just makes the experience that much better. And being able to do the boat up and loot at sea was a nice touch. I would highly recommend this game





Grewt