Blue Dragon
XBOX360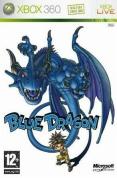 Famed game producer Hironobu Sakaguchi of Mistwalker and developer Artoon present the highly anticipated Xbox 360 exclusive Blue Dragon. Featuring the character design of Akira Toriyama of Dragon Ball Z and music by Nobuo Uematsu of Final Fantasy, Blue Dragon is an epic role-playing game that centers on a young boy named Shu and several of his friends.

These unlikely heroes possess the power to control phantom shadows that mirror the actions of their masters, giving Shu and his comrades miraculous strength and magical powers.

Shu and company must use their shadows as weapons as they battle the evil Nene and an antiquated human race, who command a magical power that is thought to have perished long ago. Shu and friends must wield their skills to save their world from impending doom.

Encountering various people on a planet where numerous ancient ruins remain, the characters and their shadows travel through a world full of mysteries and illusions, where the slightest touch can cause reactions of unparalleled magnitude.
Buy Blue Dragon on XBOX360