Juiced 2 Hot Import Nights
XBOX360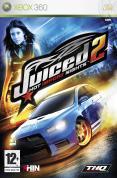 Get into the drift with Juiced 2: Hot Import Nights - the only place where superstar DJs, smokin' hot models and totally tuned cars come into close contact. Juice up your ride with complete customization and boost your NOS power as you draft, drift, slide, spook and fight for your rightful place on the racing line.

Fast-paced, adrenaline-fuelled, pick-up-and-play action lets you enjoy the pure rush of powersliding your way around the globe. Wow the crowd, keep tabs on your opponents and take the crown as the rightful king of drift!
Buy Juiced 2 Hot Import Nights on XBOX360
Reviews





Good game. Good customisation of all of your cars - but doesn't really explain the advantages (if there are any) between the different manufacturers of the parts at any level. Good graphics and sound in places but nothing compared to some of the newer titles. Plus the sound can start to grate after you hear "Car 3 is in the lead" 400 million times. It does have drifting in a biggish way like all new titles but it's handled a bit more realistically than some of the others out. Can get repetitive and the "driver DNA" system is rubbish lol. But they are the downsides, overall if you're into racing then this is one to try. Cars handle well and there is a decent selection - with a great degree of customisation





Good game, gets little boring after a while, but good fun if you have mates round.