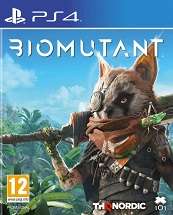 Rent Biomutant on PS4





RENT IT
Released: 25 May 2021
Genre: Action / Adventure

BIOMUTANT is a post-apocalyptic open-world ARPG that delivers real-time melee, shooter and mutant ability action. Replayability is enhanced by a varied and deep character progression system, exploration a systematically generated surface world and underworld by foot, mech, air-balloon, jet ski and much more. Bio mutant also features a fully customizable (MMO style) character and mutation system, bionics and creative item crafting, plus an interactive narrative featuring a contextual storyteller where the players creates their own story of survival in a vibrant colourful world.
Leave a review


Biomutant is a great game really fun to play after completing the main story there is still lots more to do.

Rough early game that gets dramatically better with the crafting. Story okay. Graphics were good and the colours fantastic. Small world but highly detailed. Recommend.

A solid 7/10. Graphics were average, frame rate average. Combat fun