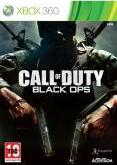 Rent Call Of Duty Black Ops on XBOX360





RENT IT
Released: 09 Nov 2010
Genre: Shooter

On November 9, 2010, the newest installment in the biggest action series of all-time and follow-up to last year's blockbuster Modern Warfare 2, Call of Duty: Black Ops, will insert players behind enemy lines during the most dangerous time period mankind has ever known. Filled with heart-racing action, Call of Duty: Black Ops puts players in the boots of elite special forces units engaged in covert warfare, deniable operations, and explosive conflicts around the globe.
Leave a review


Good game overall. Great campaign mode, the storyline has been well thought through and some of the twists are just breathtaking and leave you stunned. Haven't had a chance to play on-line but quick look at zombies was definitely good. Only downside is some rather weird shooting …
See full review


The only good thing about the game is the Zombies mode. Single player was not my cup of tea and the Multiplayer is still glitchy!

Worth a rent I suppose...I'm not a COD fan really, mainly cause I'm poo at it :)