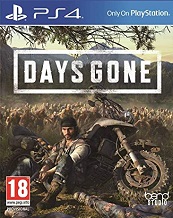 Rent Days Gone on PS4





RENT IT
Released: 26 Apr 2019
Genre: Action / Adventure

After The Pandemic Take on the role of former outlaw biker Deacon St. John: a drifter, a bounty hunter, a wandering vestige of humanity. In world devastated by a global pandemic St. John eschews the 'safe' wilderness encampments set up by mankind's last survivors and takes his chances on the broken roads. Set against the scarred, volcanic backdrop of the Pacific Northwest, Days Gone invites you to explore a world ravaged by degenerate human monsters known only as Freakers. Fight your way across the desolate landscape in search of supply, resources and, above all else, a reason to go on.
Leave a review


Not a bad game. Does not do anything new and it does start to get a little old towards the end, but there are some fun moments and the story is engaging enough that you will care to finish this game. Includes elements of Rockstar games and Ubisoft games. Worth your time.

Good Game.

Loved this game, the scenery is astounding. Love the photo mode. Story is brilliant, I was hooked from start to finish.