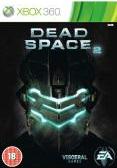 Rent Dead Space 2 on XBOX360





RENT IT
Released: 28 Jan 2011
Genre: Action / Adventure

Isaac Clarke returns for another heart-pounding adventure, taking the fight to the Necromorphs in this thrilling action-horror experience. New tools to gruesomely slice and dismember the Necromorphs complement Isaac's signature plasma cutter, empowering him as he meets new characters, explores epic Zero-G environments, and fights against a relentless Necromorph onslaught. Survival isn't the only thing on Isaac's mind in Dead Space 2 - this time, he calls the shots!
Leave a review


awesome game, intense horror action. Love it

Really enjoyed this game. Last few games I have played have been large map games. This was more of a cross between call of duty and gears of war. Good range of weapons , some original ideas , good story running along through the games. defo worth renting.

Outstanding game, great atmosphere, fantastic weapons and single player campaign was just the right length for a rental (took me 8-9 hrs)