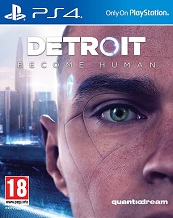 Rent Detroit Become Human on PS4





RENT IT
Released: 25 May 2018
Genre: Action / Adventure

Travel to the near-future metropolis of Detroit – a city rejuvenated by an exciting technological development: androids. Witness your brave new world turn to chaos as you take on the role of Kara, a female android trying to find her own place in a turbulent social landscape. Shape an ambitious branching narrative, making choices that will not only determine your own fate, but that of the entire city. Discover what it means to be human from the perspective of an outsider – see the world of man though the eyes of a machine.
Leave a review


Very good, flexible and immersive story. Graphics look great!

David Cage finally got it right with Detroit: Become Human. Honestly the best interactive story driven game out there right now. Only downside would be, while they do advertise how you can do the story a million ways, the ending always feels the same. More endings wouldve …
See full review


Oh my god this game is amazing. It could be the human races future. Play this it will blow your mind!