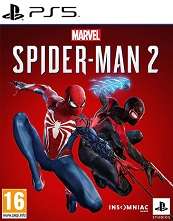 Rent Marvels Spider-Man 2 on PS5





RENT IT
Released: 20 Oct 2023
Genre: Action / Adventure

Spider-Men, Peter Parker and Miles Morales, return for an exciting new adventure in the critically acclaimed Marvel's Spider-Man franchise. Swing, jump and utilise the new Web Wings to travel across Marvel's New York, quickly switching between Peter Parker and Miles Morales to experience different stories and epic new powers, as the iconic villain Venom threatens to destroy their lives, their city and the ones they love.
Leave a review


The best game played since a long time. Perfect story,graphics and gameplay

Fantastic start to finish.

Amazing game, encountered 2/3 bugs myself but nothing game breaking and the story was slightly predictable at certain points which was disappointing however overall absolutely incredible game