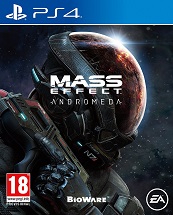 Rent Mass Effect Andromeda on PS4





RENT IT
Released: 23 Mar 2017
Genre: Action / Adventure

Mass Effect: Andromeda takes players to the Andromeda galaxy, far beyond the Milky Way. There, players will lead our fight for a new home in hostile territory as the Pathfinder - a leader of military-trained explorers. This is the story of humanity's next chapter, and player choices throughout the game will ultimately determine our survival.
Leave a review


The depth in this game is very good as are the visuals. Like most open world games the map gets very busy and there are loads of places to visit. If your a completionist like me you may easily get overwhelmed by the sheer number of side quests and tasks available. I did not …
See full review


Lots to do with a ton of missions. A little too much talking.

Really enjoyed this game as it does link up to t the previous stories. Loved it