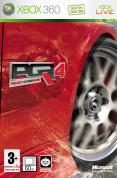 Rent Project Gotham Racing 4 on XBOX360





RENT IT
Released: 12 Oct 2007
Genre: Racing

Right from the starting line, Project Gotham Racing 4 creates an emotionally-charged racing experience, where you become attached to your careers, profiles, and vehicles. There are several new features that embody this emotional experience, the most significant being the new career mode. For the first time in PGR history, drivers will have the option of racing a variety of motorcycles from top manufacturers, such as Ducati, BMW and Honda. Whether on two wheels or four, players must perform daring and stylistic moves to win over their fans, who will cheer them on as they follow their road to racing notoriety.Get ready to be rewarded with a growing fanbase that cheers you on, reacts to your every move, and supports you through victory. Just imagine hearing the roar of the crowd as you cross the finish line with your own style and flair. In addition, through a new content server, drivers can save their favorite races and search over Xbox LIVE for race content that is specific to their interests. Players can find out who has the longest slide or wheelie in Shanghai or St. Petersburg, for example, through the innovative new content server.
Leave a review


These games were great until the Forza games came out, still I enjoyed playing it from start to finish I give it 9/10

awesome game much better than 3 my bro's got it BEST CAR GAME EVER!!!

A must have for anyone with a wheel. Graphics, car physics, weather conditions, tracks, driving styles are all excellent. I will probably be renting it again