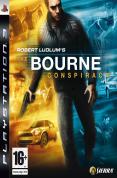 Rent Robert Ludlums The Bourne Conspiracy on PS3





RENT IT
Released: 27 Jun 2008
Genre: RPG / Strategy

Robert Ludlum's best-selling spy novels and blockbuster film adaptations have thrilled millions. Now for the first time, become Jason Bourne, Ludlum's most famous spy, in an original videogame that takes you deeper than ever before into his world of action and espionage.When curious fishermen pull your body from Mediterranean Sea you have little clue of how you got there or even who you are. A hidden Swiss bank account number leads you to Zurich where you soon discover that not only does somebody want you dead, but you're armed with a mysterious mastery of martial arts and marksmanship to fight back.Firearms, melee weapons, advanced fight techniques and even your surroundings are all at your disposal to weaponise, as you neutralise threats in a seamless blend of infiltration, shooting and hand-to-hand combat. Go deep into the Bourne canon as you hunt down the truth behind your fragmented past and turn the tables on the government agency that made you their number one target.You are Bourne - hunted, driven and deadly.
Leave a review


Yes it's short, yes it's linear, no the graphics and gameplay are not the best you'll see on the PS3...but it is FUN!! Would definitely feel cheated if I bought this due to the short length but that's why we joined boomerang right!

very good game

amazing game great graphics and sound the game is just to short i completed it in about 4 hours worth renting dont buy just now to pricey.