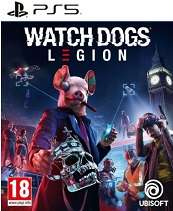 Rent Watch Dogs Legion on PS5





RENT IT
Released: 24 Nov 2020
Genre: Action / Adventure

It is time to take back London, and anyone you see in this iconic city can be recruited to your resistance. Corrupt opportunists have taken over and it's up to you to build a resistance to give the city back to the people. With an entire population of potential recruits and the city's technology at your fingertips, you'll need to hack, infiltrate, and fight your way to liberate London. Welcome to the Resistance.
Leave a review


Visually looks good, but still a typical ubisoft watch dogs game which looked to have been improved based on early gameplays, but is very repetitive and still feels like the previous games with a ps5 graphics upgrade

Amazing update from first 2. Running around London. Fantastic.